Arjoe Entertainment is the producer of a string of Bengali feature films, the latest is the national Best Feature Film Award winner (2002-2003)
Mondo Meyer Upakhyan
. It has also received 4 star rating in the Toronto Film Festival besides various international awards. Arjoe has also recently released overseas two HOME CONCERT videos featuring legendary
Pandit Bhimsen Joshi
and
Ustaad Rashid Khan
.
---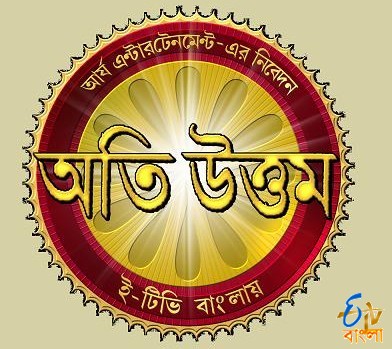 Oti Uttam :

ETV-Bangla show timings:


India: Saturday: 9:30PM
USA: Saturday: 8:00PM PST; 11:00PM EST.


Arjoe Entertainment in conjunction with ETV Bangla, the No.1. Bangla TV channel brings to you Oti Uttam, a series of 104 tele films in two phases based on the timeless classics in Bengali literature and originally enacted by the great thespian Uttam Kumar and a whole host of luminary actors and actresses of all times. First phase of 52 films started 1st October 2005 with the telecast of Harano Sur. Till date over 30 films have been screened and the series is now available on the ETV Direct TV beam in the USA. The program saw many innovations and Brand Extensions never seen on Bangla Television before this. The program started with a Weekly Radio Show Oti Uttam Special on Amar FM the most popular Bengali Radio Station. The program also saw two high profile brand extensions: The Oti Uttam Concert, held at Nazrul Manch on 17th February which went on air over two weeks to deliver astonishing TRP's. End June saw Sarbottam the first award program built around one program. Millions of viewers voted for their favorite actors in over 13 categories. The second concert is slated for end December at Kolkata.

ETV Bangla:

ETV Bangla, the undisputed leader in Bangla television invested in the tele-film genre early and created a viewer ship for well-made and well-told tele-stories. According to the latest TAM reports ETV surpasses all channels including the National market leader Star Plus and all other Bangla channels by far.

Partial List of Films:

1. Pathe Holo Deri
2. Chawa Pawa
3. Baghbondi Khela
4. Bikele Bhorer Phul
5. Chira Kumar Shabha
6. Agniswar
7. Jeevan mrityu
8. Haar Maana Har
9. Kuhak
10. Khokababur Protyabortan
11. Bipasha
12. Alo Amar Alo
13. Harano Shur
14. Mouchak
15. Nishipadma
16. Bhrantibilash
17. Biraj Bou
18. Indrani
...and a lot lot More.